VACCINATION STATUS FOR MASSES
Effective 1st January 2022:
Pre-Event Testing (PET) for Unvaccinated Individuals
for Vaccinated Masses will NO LONGER be recognised and accepted.
Effective 1st February 2022:
20% Attendance Cap will be removed and all children under 12
will be allowed to attend Masses without restrictions.
Vaccination Status will need to be verified upon entry to all
Vaccinated-only Masses
Unvaccinated Due To Medical Reasons
For the Medically Ineligible Individuals,
Proper Medical Documentation must be produced
for verification before attending any Vaccinated-only Mass.
LATEST PARISH UPDATES (UNTIL FURTHER NOTICE)
DEDICATED MASSES:

Vaccinated-Only Masses: Saturday, 4pm | Sunday, 11am & 5pm Masses


Weekdays | Sunday, 8.30am only



CRITERIA FOR ATTENDING VACCINATED-ONLY MASSES:

Fully Vaccinated and able to provide proof of vaccination
FULLY VACCINATED STATUS
Must be completed 14 days post 2nd Dose of Vaccination
(e.g. 2nd Dose: taken on 19 May, Fully Vaccinated: 2nd June)

DENIED ENTRY FOR MASS
Parishioners will be turned away if they do not meet the above
qualifications [OR] do not have MARS Booking [OR] arrive after
Mass Processing is closed

HOW TO VERIFY STATUS
Parishioners may use the TraceTogether [OR] HealthHub
Apps [OR] Physical Print Copy to verify their status/ results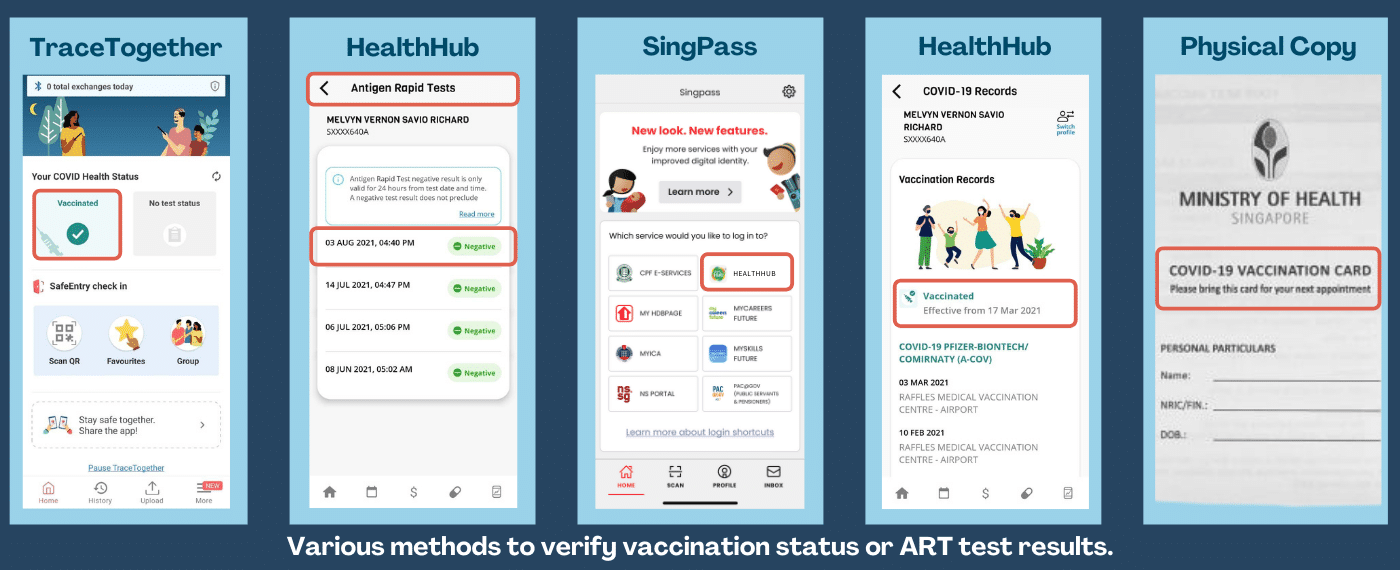 List Of Approved Vaccines (SG)
Pfizer-BioNTech/ Comirnaty
Moderna [OR]
Any vaccines listed on the World Health Organisation's (WHO) Emergency Use Listing (EUL)
Please Take Note:
It is the responsibility of the individual to prove their vaccination status and it is in their interest to ensure that their vaccination records are updated as per above.